Continuum of Care
Training
What is a Continuum of Care?
Federal funding for homeless shelter programs is provided by a federal law called the McKinney–Vento Homeless Assistance Act of 1987. The Homeless Emergency Assistance and Rapid Transition to Housing (HEARTH) Act of 2009 reauthorized and amended McKinney–Vento, creating three new programs administered by the US Department of Housing and Urban Development (HUD) – the Continuum of Care (CoC) Program, The Emergency Solutions Grant (ESG) Program and the Rural Housing Stability Assistance Program (RHSAP).
The CoC Program is designed to assist individuals and families experiencing homelessness and to provide the services needed to help such individuals move into permanent housing with the goal of long-term stability. The CoC Program promotes community-wide planning and strategic use of resources to address homelessness.
You may hear the acronym CoC used to refer to a program, a system, a geographic area, or the group of staff that administer the program.
For more information regarding the federal CoC Program, see HUD's CoC Program site: Housing and Urban Development CoC Program
Ohio Balance of State CoC
Ohio is comprised of nine CoCs. Lucas, Cuyahoga, Summit, Franklin, Montgomery, Hamilton, Stark, and Mahoning are urban counties in Ohio, each with their own CoC. The Ohio Balance of State Continuum of Care (BoSCoC) is comprised of the remaining 80 rural counties. Within these 80 counties, there are approximately 400 homeless programs including emergency shelters, transitional housing, rapid re-housing, and permanent supportive housing.
Agency Roles in CoC
The Ohio BoSCoC is divided into 17 homeless planning regions. Each region has their own lead(s) who organize the region and help ensure all funding requirements are met.
The Ohio Development Services Agency (OSDA) Office of Community Development has been designated by the Ohio BoSCoC Board to serve as the Collaborative Applicant and the grantee for the CoC's Planning Grant. ODSA staff serve on Ohio BoSCoC committees and workgroups. ODSA is also the state agency responsible for administering federal Emergency Solutions Grant (ESG) funds and state homeless program funds. In this role, ODSA works to align state and federal program requirements and to ensure coordinated planning across funding streams.
COHHIO is a housing-focused non-profit in Columbus that houses the Ohio BoSCoC staff. Through a contract with ODSA, COHHIO provides staff support for the Ohio BoSCoC including the facilitation of CoC committee meetings, data collection and submission to HUD, preparation of the annual CoC application, and implementation of program performance management and improvement. As the Homeless Management Information System (HMIS) Lead, COHHIO staff also provide support and technical assistance to database users in the Ohio BoSCoC HMIS.
BoSCoC Homeless Planning Regions
The BoSCoC is divided into 17 homeless planning regions shown on the map below. The counties indicated by stripes are the eight entitlement communities or urban CoC counties that receive direct funding from HUD.
Homeless program representatives in these homeless planning regions coordinate systems and programs and are responsible for working with ODSA and COHHIO to ensure all HUD homeless program requirements are met. The homeless planning regions report to COHHIO and ODSA, not to HUD.
These homeless planning regions are also responsible for meeting all requirements pertaining to state-level homeless program funding administered by ODSA. These programs include the Emergency Solutions Grant Program (ESG), Homeless Crisis Response Program (HCRP), and the Supportive Housing Program (SHP). For these state programs, the homeless planning regions and some homeless services providers report directly to ODSA. More information about state-funded homeless programs can be found at the following ODSA site: http://www.development.ohio.gov/cs/cs_hshp.htm
Ohio BoSCoC Homeless Planning Regions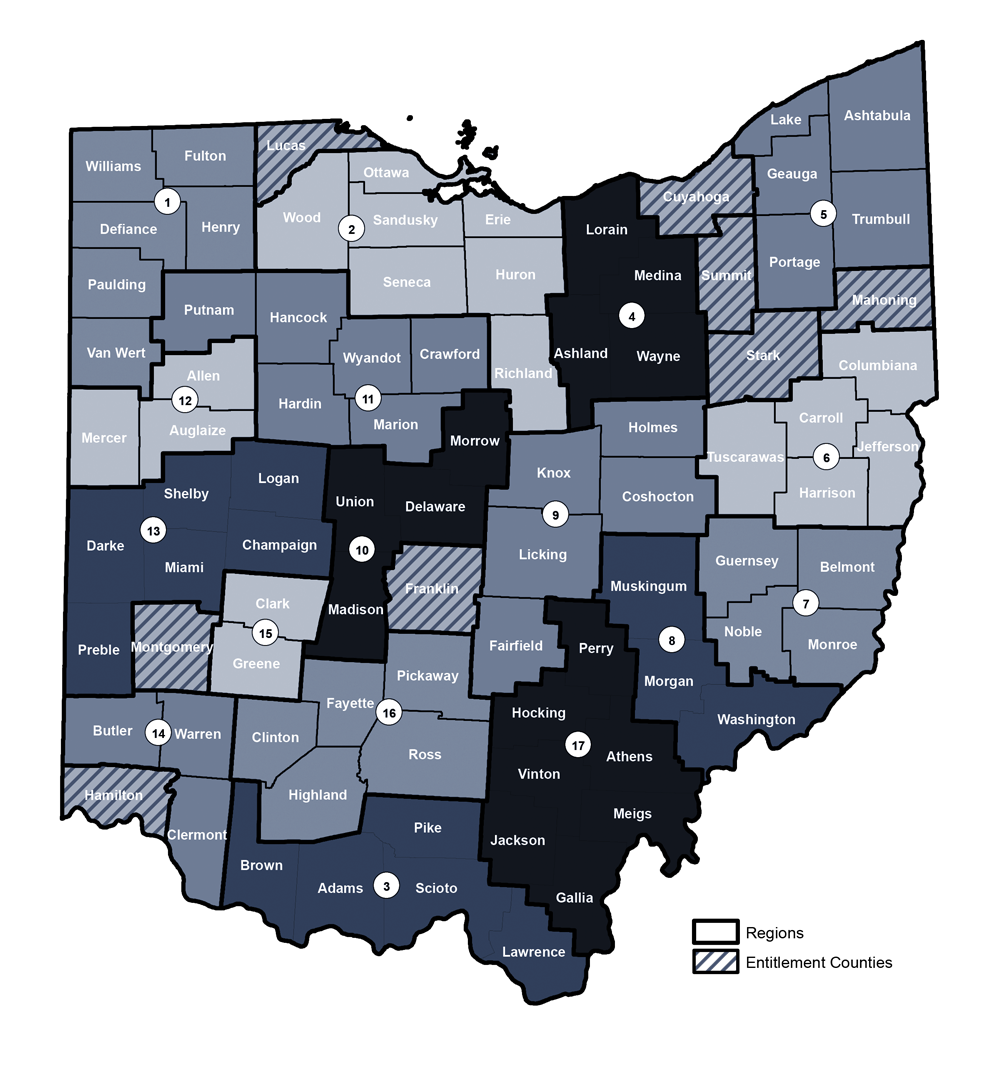 Project Types
The following list describes types of projects in operation in the Ohio Balance of State.
Emergency Shelter (ES) is any facility with overnight sleeping accommodations, the primary purpose of which is to provide temporary shelter for the homeless in general or for specific populations of the homeless.
Safe Haven (SH) is a form of supportive housing that serves hard-to-reach homeless persons with severe mental illness who are on the street and have been unable or unwilling to participate in supportive services.
Transitional Housing (TH) provides housing and accompanying supportive services to homeless individuals and families for up to 24 months to assist with stability and support to successfully move to and maintain permanent housing.
Permanent Supportive Housing (PSH) offers permanent housing and supportive services to assist homeless persons with a disability (individuals with disabilities or families in which one adult or child has a disability) to live independently.
Rapid Re-Housing (RRH) provides housing relocation and stabilization services and short and/or medium-term rental assistance as necessary to help a homeless individual or family move as quickly as possible into permanent housing and achieve stability in that housing.
HMIS
All state and federally funded Ohio BoSCoC homeless projects must use the Ohio BoSCoC Homeless Management Information System (HMIS) to maintain client and project-level data. The Ohio BoSCoC HMIS (also referred to as ServicePoint) is a valuable resource due to its ability to integrate data across projects in our CoC. HMIS data can be used to understand the size, characteristics, and needs of the homeless population in the Ohio Balance of State. The only exception to the HMIS participation requirement is for domestic violence victim services agencies, which are prohibited from entering data into HMIS and must instead use a comparable secure database.
All Ohio BoSCoC homeless projects participating in HMIS must abide by the Ohio BoSCoC Policies and Procedures Manual. The Policies and Procedures outline the CoC's policies related to maintaining system security and participant confidentiality as well as the CoC's processes for complying with federal regulations. Homeless projects must also comply with the Ohio BoSCoC Data Quality Standards which outline expectations for ensuring that quality data is entered into and maintained in the HMIS.
Racial Equity
National Data shows that Native Americans and African Americans are immensely overrepresented in the population of people and families experiencing homelessness. Nationally, roughly 40 percent of people experiencing homelessness are people and families of color. This disparity is heavily influenced by the historical and structural racism within larger systems like the child welfare and criminal justice systems. The homelessness system can either continue this racism or disrupt it with targeted policies, funding, and services.
The Ohio BoSCoC is working to compare data on race and ethnicity from HMIS to determine the scope of disparities within our community. The ultimate goal of looking at our data is to ensure that the homeless system is not perpetuating inequity.
Definition of Homelessness
HUD's Homeless Definition is comprised of four categories listed below. These categories are used to determine a client's eligibility for programs. For example, a client or family living in a car meets the definition of Category 1 and could be eligible for Rapid Re-Housing. It should be noted that other systems of care often use a different definition of homelessness which may affect how programs determine eligibility.
Category 1 – Literally homeless individuals/families
Literal homelessness is further defined as homeless individuals/families who lack a fixed, regular, and adequate nighttime residence, meaning:
Sleeping in a place not designed for or ordinarily used as a regular sleeping accommodation, such as a place not meant for human habitation
Living in an emergency shelter or transitional housing designated to provide temporary living arrangements (including hotel/motel stays paid for by charitable or government programs)
Exiting an institution where the individual resided for less than 90 days and where the individual entered the situation immediately from emergency shelter (including hotel/motel stays paid for by charitable or government programs) or an unsheltered location
Category 2 – Individuals/families who will imminently (within 14 days) lose their primary nighttime residence with no subsequent residence AND no resources or support networks
Category 3 – Unaccompanied youth or families with children/youth who meet the homeless definition under another federal statute and three additional criteria
Category 4 – Individual/families fleeing or attempting to flee domestic violence with no subsequent residence AND no resource support networks
Documenting Homelessness
Ohio BoSCoC homeless projects must document participant eligibility and services provided to participants. Homeless service providers must document acceptable evidence of participants' homeless status. Acceptable evidence includes third party written verification of participants' stay in an unsheltered location, in an emergency shelter, or in a Transitional Housing (TH) program. If that documentation is not attainable, third-party oral verification can be used as documentation, but case workers must document their due diligence in attempting to obtain third-party written verification. Self-certification of homeless status is only permitted if neither third-party written nor third-party oral verification can be obtained and due diligence was documented.

Third-party written verification of homelessness
Written verification can include an HMIS record or documentation on letterhead from shelter or TH project.

Third-party oral verification from a case worker, outreach worker, or program staff 
This can only be used as documentation after case workers have documented their due diligence in attempting to obtain third-party written verification of homeless status.

Self-certification of homeless status
This can only be used as documentation if neither third-party written nor third-party oral verification could be obtained, and due diligence was documented.
For more information see the Ohio BoSCoC Homeless Program Standards on the Governance and Policies page of our site.
Monitoring
The Ohio BoSCoC establishes project and system performance goals for the CoC and conducts ongoing monitoring of program performance for all CoC-funded projects. Additionally, project providers are required to monitor their own performance on a regular basis to ensure that they are meeting the goals established by the CoC.
On-site monitoring began in March of 2019. The purpose of monitoring visits is to ensure that CoC-funded programs are compliant with HUD regulations. These visits are also to ensure that the most vulnerable in our communities seeking assistance from CoC-funded programs are receiving the best services possible.
More information is available on the Performance and Monitoring page of our website.
Common Acronyms List
AHAR – Annual Homelessness Assessment Report
AMI – Area Median Income
APR – Annual Performance Report
BoSCoC – Balance of State Continuum of Care
CE – Coordinated Entry
CHO – Covered Homeless Organization
COHHIO – Coalition on Homelessness and Housing in Ohio
DJFS – Department of Jobs and Family Services
ES – Emergency Shelter
ESG – Emergency Solutions Grant
HCRP – Homeless Crisis Response Program
HF – Housing First
HIC – Housing Inventory Count
HMIS – Homeless Management Information System
HOPWA – Housing Opportunities for Persons with AIDS
HPRP – Homelessness Prevention and Rapid Re-housing Program
HUD – Housing and Urban Development
NOFA – Notice of Funding Availability
ODSA – Ohio Development Services Agency
PATH – Projects for Assistance in Transition from Homelessness
PHA – Public Housing Authority
PIT – Point in Time
PMP – Performance Management Plan
PSH – Permanent Supportive Housing
QPR – Quarterly Performance Report
RHY – Runaway Homeless Youth
RRH – Rapid Re-Housing
S + C – Shelter Plus Care
SH – Safe Haven
SHP – Supportive Housing Program
SOAR – SSI/SSDI Outreach Access and Recovery
SSDI – Social Security Disability Income
SSI – Social Security Income
SSO – Supportive Services Only
SSVF – Supportive Services for Veteran Families
TANF – Temporary Assistance for Needy Families
TAY – Transition Age Youth
TH – Transitional Housing
VA – Veterans Affairs
VASH – Veterans Affairs Supportive Housing
VI-SPDAT – Vulnerability Index – Service Provider Decision Assistance Tool
YHDP – Youth Homelessness Demonstration Program
Acronyms Practice Quizlet