Racial Equity and Homelessness

COHHIO Racial Equity Committee (REC)
Who we are
COHHIO's Racial Equity Committee (REC) recognizes that homelessness and housing in the US are racialized problems, that the myriad racial inequities that exist are the results of centuries of structural racism that pervades American institutions.
Racist policies, practices, laws, and cultural narratives have conspired to undermine the liberties and limit the opportunities of Black, Indigenous, and other People of Color. We believe that systemic inequities can be deconstructed through persistent and purposeful action, and that more equitable systems and institutions can be realized, including those that relate to homelessness and housing.
Therefore, we strive to utilize a progressive racial equity lens in providing ongoing and impactful trainings, technical assistance, data analysis, and program oversight in our work to eliminate homelessness and achieve safe, decent, and affordable housing for all.
We do this both internally by working with the entire COHHIO organization, and externally by working alongside numerous agencies and organizations throughout Ohio and the US, especially those whose focus is providing homelessness and housing services.
Data
Sources: 2019 Census Data and 2019 Point in Time Count data
Other Data Sources:
We commit to doing more.
COHHIO is committed to doing more than just talking about the issue. COHHIO has donated to the following organizations: Ohio Transformation Fund which is a collaborative fund developed by national and local funders advocating for healthy communities and an equitable democracy across Ohio. NAACP – Ohio Chapter– The Ohio Conference of Units of the NAACP has been a vital programmatic component of the NAACP for almost a century. Ohio Unity Coalition The Ohio Unity Coalition provides year round civic engagement, leadership development, and power building campaigns to empower Black and underserved communities, through our Unity Voter Empowerment Campaign and Ohio Black Women Roundtable.
We encourage you all to use your organizational resources towards making change.
Racial Equity Action Committee on Homelessness in Ohio
(R.E.A.C.H Ohio)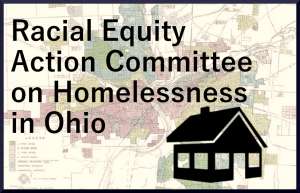 COHHIO's REC is internal facing, COHHIO helped create the external facing Race Equity Action Committee on Homelessness in Ohio (REACH Ohio). This diverse committee of providers, system and community leaders, advocates, and individuals with lived expertise, developed goals centered around creating an equitable homeless system.
R.E.A.C.H Ohio's Mission:
We are committed to achieving racial equity in Ohio's Homeless systems
We acknowledge that housing is a right and homelessness is unacceptable

We are focused on radical anti-racist change in pursuit of justice and equity

We are data- enlightened and person centered

We are courageous, inclusive and transparent in support of our mission
This will be achieved by committing to:
All individuals connected to the homeless system have racial equity training.

All agencies in the homeless system use a racial equity lens in all decision making.

All individuals experiencing homelessness have an equitable experience in our system.

All systems interacting with the homeless system work together to promote racial equity.

Qualitative and quantitative data about housing and homelessness are collected and analyzed through a racial equity lens.

All (advocacy) efforts to prevent and end homelessness are informed by racial equity.
To request a training or inquire about more information contact us at racialequity@cohhio.org.
Standing in Solidarity
COHHIO stands in solidarity with the protestors demanding justice for Jacob Blake, George Floyd, Breonna Taylor, and Ahmaud Arbery as well as so many other Black Americans killed by police, many of them in Ohio. We remember and honor Julius Tate Jr., John Crawford, Tamir Rice, Henry Green and Tyre King, among others who lost their lives to the violence of racism, systemic inequality and police brutality in recent years.
COHHIO recognizes that to solve the crisis of racial inequality, an issue that relates to and affects our work to combat housing insecurity and homelessness; we must center the voices, needs and aspirations of the Black community in our strategies. Full statement
COHHIO stands firmly against all forces of white supremacist ideology and terror that has presented itself against Asian, Pacific Islander, and Desi Americans (APIDA). This has been a long nightmare in the land of the American Dream. The gruesome intersections of racism, sexism, and classism have left a wake of pain. See the full statement
Resources and Guidance