July 11: Early in-person voting and absentee voting by mail begins for Aug. 8 Special Election
Aug. 7: Deadline to postmark your absentee mail ballot
Aug. 8: Special Election (Polls open from 6:30 a.m. to 7:30 p.m.)
Aug. 8 at 7:30 p.m.: Deadline to deliver absentee mail ballot to your county board of elections
Oct. 10: Deadline to register to vote in the Nov. 7 General Election
Oct. 11: Early in-person voting and absentee voting by mail begins for Nov. 7 General Election
Nov. 7: General Election (Polls open from 6:30 a.m. to 7:30 p.m.)
Nov. 7: at 7:30 p.m.: Deadline to deliver absentee mail ballot to your county board of elections

About
Ohio VOTES is COHHIO's statewide nonpartisan program to build civic engagement in Ohio's low-income communities. Ohio VOTES works with housing providers, health centers, community centers, food pantries, homeless programs, and other nonprofits to help the people they serve exercise their right to vote and stay engaged in the civic debate.
Through voter education, leadership training, empowerment programming, coalition building, and providing voting resources, Ohio VOTES activates voters often ignored by traditional political campaigns. By engaging them on issues that matter most to their own community and providing tools and resources, Ohio VOTES empowers residents and low-income communities to advocate for themselves.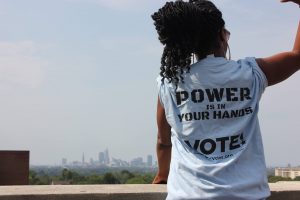 Ohio VOTES collaborates with the Ohio Voter Rights Coalition, a network of nonpartisan voter advocates including ACLU of Ohio, All Voting is Local, Common Cause Ohio, the Lawyers' Committee for Civil Rights under Law, League of Women Voters of Ohio, and more.
Engaging Affordable Housing Voters – We connect with housing providers to connect residents with resources and opportunities to register to vote. If you are interested in starting or continuing your program, please reach out to Ken Williamson at OhioVotes@cohhio.org with questions or concerns.
Ready for Election 2023? Register to vote by
October 10
to vote in the November 7 Election
Upcoming Voting Events and Registration Opportunities