Ready for Election 2020? Register to vote by
October 5
2020 GENERAL ELECTION EARLY VOTING & ABSENTEE BALLOT SCHEDULE
SEPTEMBER
September 20-26: National Voter Registration Week of Action
OCTOBER
October 5: Deadline to Register to Vote (BOEs open until 9:00 p.m.)
October 6-9: Early Vote 8:00 a.m. – 5:00 p.m. (February 19 – Absentee Voting by Mail & Early In-Person Voting begins)
October 12-17: Early Vote 8:00 a.m. – 5:00 p.m.
October 20-24: Early Vote 8:00 a.m. – 5:00 p.m.
October 25: Early Vote 8:00 a.m. – 4:00 p.m.
October 26-30: Early Vote 8:00 a.m. – 7:00 p.m.
October 31: Early Vote 8:00 a.m. – 4:00 p.m. (12:00 p.m. Deadline to Request an Absentee Ballot)
NOVEMBER
November 1: Early Vote 1:00 p.m. – 5:00 p.m.
November 2: Early Vote 8:00 a.m. – 2:00 p.m. (Mailed absentee ballots must be postmarked by this date)
November 3: General Election Day –  Polls are open from 6:30 a.m. – 7:30 p.m. (Voters are able to drop off absentee ballot at their county board of elections office until 7:30 p.m.)*
Sign up to join Ohio Votes 2020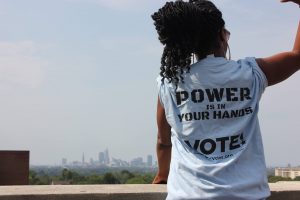 This year, Ohio Votes will have ample opportunities to get involved in nonpartisan voter outreach. Sign up to participate in 2020 nonpartisan voter outreach activities, including serving as a:
Partner Organization with Ohio Votes
Host Site for National Voter Registration Week of Action (September 20-26)
Individual volunteer – either a voting advocate or volunteer driver (opportunities will be available throughout the year)
Together, we can make sure our most underserved communities' voices are heard. If you're interested in joining our efforts, please register to participate and look out for future updates and action items. More information about each role can be found on the registration page.
Ohio Votes Regional Liaisons
Year-round Nonpartisan Voting Programming & Assistance
Ready to organize and advocate? Join NOVOC 2020
The 2020 Nonpartisan Ohio Voter Outreach Committee (NOVOC) is led by the Ohio Voter Rights Coalition, a coalition of nonpartisan statewide organizations which advocates for voting rights, ballot access, and general voter empowerment. Participants in the Outreach Committee include faith communities, regional and statewide advocacy groups, the League of Women Voters, Ohio Votes, Unitarian Universalist Justice Ohio, Poor People's Campaign, All Voting is Local and more. Our goal is to work together to be greater than the sum of our parts and minimize duplicative outreach efforts.
More information about the Ohio Votes initiative
Ohio VOTES is COHHIO's year-round, statewide, nonpartisan initiative to build civic engagement in Ohio's low-income communities. Ohio VOTES works with housing providers, health centers, community centers, food pantries, homeless programs, and other nonprofits to help the people they serve exercise their right to vote and stay engaged in the civic debate.
Through voter education, leadership training, empowerment programming, coalition building, and providing voting resources including rides to the polls, Ohio VOTES activates Ohio voters who often go ignored by traditional political campaigning. By engaging them on issues that matter most to their own community and providing tools and resources, Ohio VOTES empowers residents and low-income communities to be their own advocates.
Contact OhioVotes@COHHIO.org for more information.