Coordinated Entry
Training
What is Coordinated Entry?
Coordinated Entry (CE) is a system for entry into, movement through, and exit from a homeless services system. CE increases the efficiency of a homeless assistance system by standardizing access to homeless services and coordinating program referrals. CE helps households quickly access appropriate services to address housing crises, increase exits to housing, decrease length of time homeless, and reduce returns to homelessness.
Through the Homeless Emergency Assistance and Rapid Transition to Housing Act (HEARTH) regulations that govern funding, the U.S. Department of Housing and Urban Development (HUD) requires all CoCs across the United States to implement CE.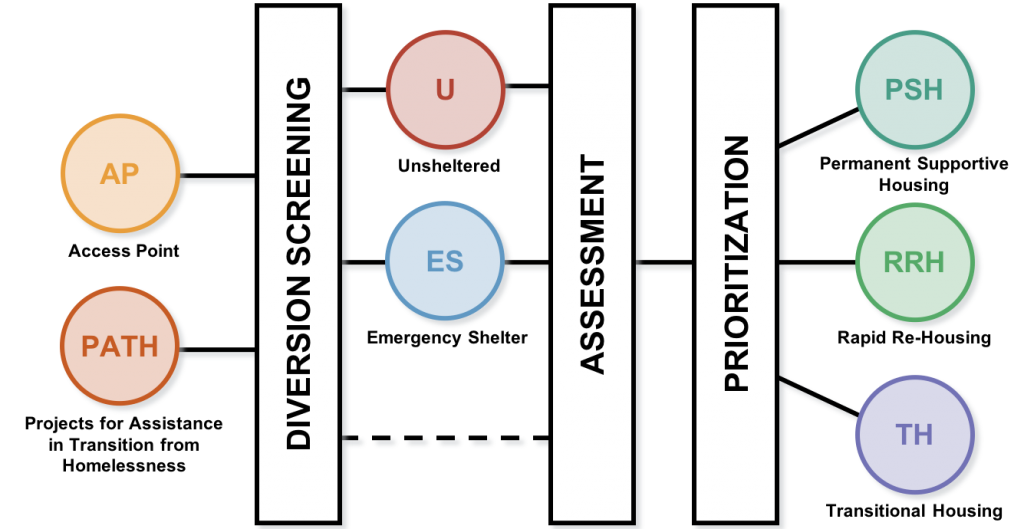 Coordinated Entry Plans
Each of the 17 Homeless Planning Regions in the Ohio Balance of State has a Coordinated Entry Plan. These plans outline the basic components of CE including advertising services, assessing clients, prioritizing clients, providing referrals, and more. The CE plans for each region are currently being modified and will be posted on the Coordinated Entry page of the of Ohio BoSCoC website when they are complete.
Advertising, Marketing, and Outreach
In order to reach persons who are most vulnerable to homelessness, homeless services providers must advertise services to the entire community. This includes taking explicit steps to make advertising and communications materials easy to understand, making the system easily accessible, and taking specific action to reach out to those who may be least likely to seek out resources on their own. Examples of flyers can be found under Regional Flyers on the Coordinated Entry page.
Access Points
Various Access Points into the homeless system exist in a given region or county. Clear understanding about how to access the system ensures that persons experiencing homelessness or at-risk of homelessness are quickly and effectively sheltered or diverted from the system when appropriate. All CE Access Points should be easily accessible for those needing to call or visit in-person. Homeless Planning Regions' Access Points can be found in the Regional CE Plans on the Coordinated Entry page. All providers that have agreed to serve as CE Access Points must enter into a Memorandum of Agreement (MOA) with each other and with their Regional Planning Committee.
Access Points must be willing and able to serve those who are fleeing or attempting to flee domestic violence, dating violence, sexual assault, or stalking, even if participants are seeking services from non-victim service providers. Access Points must be able to serve domestic violence victims in ways that help ensure safety if no victim service provider is available.
The navy pins on the Resource Guide below are placed on Ohio BosCoC Access Points. The olive pins show coverage for veteran homelessness resources in all Ohio Balance of State counties. The green pins are Access Points in other CoCs.
Diversion Screening
Diversion screening determines if persons experiencing a housing crisis can be housed or remained housed without entering the homelessness system. This may mean that a housing crisis can be resolved by exploring solutions such as finding a friend or relative of the client who is willing to provide housing. Diversion screening helps to reduce unnecessary entries into the homeless system and standardizes access to program referrals. Access Points must conduct diversion screenings.
Assessment
If the Diversion Screening is unsuccessful, an individual or household enters the emergency shelter or crisis response system. Completion of an assessment helps determine an individual or family's level of need and helps to inform referrals to appropriate housing or service interventions. Clients are allowed autonomy to refuse to answer assessment questions without retribution or limiting their access to assistance.
The Ohio Balance of State uses the VI-SPDAT to assess individuals, F-SPDAT to assess families, and the TAY-SPDAT to assess youth. Case managers who provide assessment are required to complete VI-SPDAT training. SPDAT assessment tools and training information can be found on the Coordinated Entry page.
Prioritization
All Ohio BoSCoC Permanent Supportive Housing (PSH) projects must prioritize chronically homeless individuals/families first. When multiple chronically homeless are identified, those individuals/families with the longest histories of homelessness and with the most severe service needs should be prioritized before other chronically homeless with less severe needs and/or shorter histories of homelessness. PSH Prioritization Workgroups make prioritization decisions as outlined in the Ohio BoSCoC Coordinated Entry Standards. Prioritization workgroups use the PSH and RRH Prioritization by County report found in HMIS to prioritize clients. Clients such as domestic violence victims do not appear on this list and should be advocated for in prioritization workgroup meetings.
Referrals
If it is determined that an individual or household in emergency shelter cannot resolve their homeless situation on their own, clients are assessed using the VI-SPDAT to gain an understanding of their level of need. Emergency shelter and crisis response providers will likely then need to make a referral to a housing provider or other type of homelessness assistance provider to help end the homeless episode. The VI-SPDAT score is utilized to determine the referral. The higher the VI-SPDAT score, the more intensive the referral option and/or the higher priority given to the household.
Federal, state, and local fair housing regulations indicate that participants may not be "steered" toward a particular housing facility or neighborhood because of race, color, national origin, religion, sex, disability, or family status. In determining referrals, emergency shelter and crisis response providers must adhere to civil rights and fair housing laws. These include the Fair Housing Act, Section 504 of the Rehabilitation Act, Title VI of the Civil Rights Act, Title II of the Americans with Disabilities Act, and HUD's Equal Access Rule.
Additional Resources
HEARTH Act: https://www.hudexchange.info/homelessness-assistance/hearth-act/
HUD's Coordinated Entry Policy Brief: https://www.hudexchange.info/resources/documents/Coordinated-Entry-Policy-Brief.pdf