For Immediate Release July 14, 2020

Pandemic Increases Housing Insecurity for Low-Wage Workers
Before the coronavirus hit Ohio, only three out of the 10 most common jobs actually paid employees enough to afford a basic two-bedroom apartment, according to a report released Tuesday. Today, many of those workers have been laid off and are now facing eviction.
Ohio's Housing Wage – the hourly amount renters need to earn to afford a basic, two-bedroom apartment – increased this year to $15.99, according to the Out of Reach report jointly released by the National Low Income Housing Coalition (NLIHC) and the Coalition on Homelessness and Housing in Ohio (COHHIO). Minimum wage employees would need to work 74 hours a week year-round to afford a 2 BR unit.
Of the 10 occupations with the most employees in Ohio, only registered nurses earn considerably more than the housing wage. Meanwhile, people working in common jobs that pay far less than the housing wage – fast food workers, retail salespersons, cashiers, restaurant employees, and janitors and cleaners – are the most likely to have been laid off or lost income as a result of the coronavirus pandemic.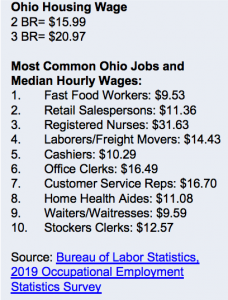 While more than 1.4 million Ohioans have filed for unemployment insurance since March, nearly half still have not received any benefits. Furthermore, a recent report by the Center for Budget and Policy Priorities estimated 394,000 low-income Ohioans have still not received their federal stimulus checks.
Meanwhile, the U.S. Census Bureau's most recent Household Pulse Survey estimates nearly 537,000 Ohioans are concerned that they will not be able to pay next month's rent.
COHHIO Executive Director Bill Faith said mass unemployment among Ohioans who were already struggling to pay the rent has created the very real prospect of a full-blown housing crisis on top of a public health emergency.
"Local organizations throughout Ohio are trying to help unemployed workers keep a roof over their heads, but the demand for rental assistance is immense and growing every day," Faith said. "We need state and federal leaders to do their part to prevent unnecessary evictions and homelessness. Safe, decent, affordable housing must be a priority, especially during a pandemic when your health really depends on having a home."
COHHIO and NLIHC are urging the U.S. Senate to pass Sen. Sherrod Brown's (D-Cleveland) proposal to create a $100 billion emergency rental assistance program for workers impacted by the virus-induced recession.
NLIHC president and CEO Diane Yentel said housing is a basic human need that millions of Americas couldn't afford even before the economic downturn.
"The lack of affordable homes for the lowest-income people is one of our country's most urgent and solvable challenges during and after COVID-19. We lack only the political courage to fund the solutions at the scale necessary. It's time for Congress to act," she said.
COHHIO is also asking Gov. Mike DeWine to allocate at least $100 million of the state's federal coronavirus relief funds for emergency rental assistance. Last month 182 businesses, hospitals, and human services organizations signed a letter urging Gov. DeWine to take immediate action to prevent a spike in evictions and homelessness.
For additional information about the Out of Reach report, visit: http://www.nlihc.org/oor
-30-