COHHIO and partners in the Home Matters to Ohio coalition have officially launched our 2019 advocacy campaign to expand the Ohio Housing Trust Fund, the primary source of state funding for homeless and affordable housing services.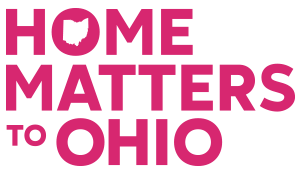 Legislators and staff from 26 different Statehouse districts joined Home Matters to Ohio leaders at the Riffe Center to discuss the importance of affordable housing in Ohio. Presenters included Bill Faith of COHHIO, Megan Kelley of National Church Residences, Emily Lundgard of Enterprise, Nate Coffman of Ohio CDC Association.
Policymakers learned about the growing issue of housing insecurity and homelessness in Ohio and how existing state and local programs help support their most vulnerable constituents. Discussion topics included: the current state of homelessness in Ohio; the Ohio Housing Trust Fund; homeless services; home repair programs; the collateral impact of housing insecurity on education, child welfare, and economic development; and the correlation between healthcare costs and housing.
The Home Matters to Ohio campaign nearly succeeded in expanding the state Housing Trust Fund during the previous budget cycle two years ago. The coalition has continued working to increase awareness about homelessness and the affordable housing shortage, and educate policymakers about how a more robust promote Trust Fund could help make home a reality for more Ohioans.
To find out how you can participate in the Home Matters to Ohio campaign, contact COHHIO Advocacy Director Gina Wilt.