FOR IMMEDIATE RELEASE June 14, 2023
Ohio Senate Budget Puts Housing Further Out of Reach
Full-time workers need to earn at least $19.09 an hour to afford a modest 2-bedroom apartment in Ohio, according to a report jointly released Wednesday by the National Low Income Housing Coalition (NLIHC) and the Coalition on Homelessness and Housing in Ohio (COHHIO).
The 2023 Ohio Out of Reach report reveals a significant gap between renters' income and the cost of rent, which has been increasing at a pace unseen in recent decades. Of the 10 jobs with the most employees in Ohio, only three earn more than the statewide $19.09 an hour 2-bedroom Housing Wage – registered nurses, general operations managers, and truck drivers.
COHHIO Executive Director Amy Riegel said rents shot up by 17 percent in the last two years, much faster than wages for many of Ohio's most common jobs.
"It's not just fast-food workers, hotel maids, big box store cashiers, and home health aides who are struggling to keep a roof over their heads. The low-wage, high-rent gap is impacting people who assemble parts in factories, fill orders at warehouses, ship freight, and answer the phone when you have problems with your internet service," she said.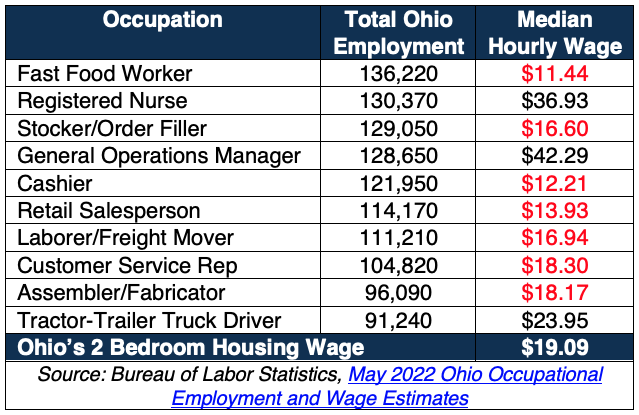 The Housing Wage, an estimate of the hourly wage full-time workers need to afford a rental home at fair market rent without spending more than 30 percent of their incomes, is highest in urban and suburban areas like Union County, Columbus and Cincinnati. However, the gap between rents and wages is wider in many more rural areas. For example, renters need to earn $22.37/hour to afford a 2-bedroom apartment in Fairfield County, where the average renter earns only $12.10/hour – a gap of $10.27/hour. Other counties with extreme gaps between rents and average renter income include Licking, Athens, Brown, Morrow, Pickaway, Madison, Hocking and Geauga counties.
Riegel said such widespread housing insecurity has dire implications for economic development efforts across the state.
"When so many jobs pay too little to afford a secure place to live, families are forced to make impossible decisions about whether to pay the rent, buy food, or forego medicine, transportation or education," she said. "A precarious workforce means tired, stressed, unhealthy employees, higher absenteeism, and lower productivity. Affordable housing is a key factor that prospective employers consider when making decisions about where to site new operations."
Gov. Mike DeWine and the Ohio House included several proposals in the state biennial budget that would help address housing insecurity, but last week the Ohio Senate stripped these provisions and even created new, unvetted bureaucratic barriers to affordable housing development.
"Restoring the House and governor's housing plan in the biennial budget will help build a solid foundation for a healthy, productive, reliable, educated workforce that's able to meet the future demands of our state's economy," Riegel said.
NLIHC President and CEO Diane Yentel urged Congress to fully fund federal housing programs.
"Stable, affordable homes are a prerequisite for basic well-being, and no person should face the danger of losing their home. But, as the Out of Reach report shows, too many low-income renters now face worsening housing instability, as wages stagnate, housing costs rise, and pandemic-era safety net programs close down," Yentel said. "Addressing the country's long-term housing affordability crisis requires bridging the gap between rents and incomes through comprehensive federal legislation and adequate funding by Congress for our country's vital affordable housing and homelessness programs."
For additional information about the Out of Reach report, visit: http://www.nlihc.org/oor
-30-