FOR IMMEDIATE RELEASE MAY 16, 2022
COHHIO Names Amy Riegel to Serve as New Executive Director
The Coalition on Homelessness and Housing in Ohio's Board of Directors on Monday announced housing and health care advocate Amy Riegel would become the organization's new leader starting June 1.
Riegel will take over from long-time Executive Director Bill Faith, who will be retiring this summer. Earlier this year, COHHIO's Board launched an intensive search committee process to identify Faith's successor.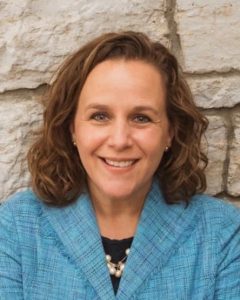 "I am pleased to announce that Amy Riegel will be COHHIO's next Executive Director," COHHIO Board President Fred Berry said. "Her experience in both the housing and health care arenas, her coalition-building skills, and her commitment to COHHIO's mission make her an excellent fit for the job."
Riegel most recently served as the senior director of housing for CareSource, a Medicaid Managed Care Organization based in Dayton. Under her guidance, CareSource ramped up its efforts to address housing insecurity and improve the underlying conditions that impact the health and wellness of low-income Ohioans. Previously, Riegel helped oversee housing and homelessness policy and programs for the City of Dayton.
"I am honored to be chosen to lead COHHIO and I look forward to building on the strong foundation Bill and his team have created," said Riegel. "Ohio is facing housing challenges like we've never seen. But we also have some incredible opportunities to overcome homelessness and housing insecurity. I'm excited to work toward a healthier future where every Ohioan has a safe, decent, affordable place to call home."
Faith, who has led COHHIO since it was formed, will remain available to assist in an advisory capacity over the next few months.
"After 35 years in this position, making the decision to retire wasn't easy. But I am confident that I am leaving COHHIO in very capable hands. Amy is such a strong advocate with a lot of heart, dedication, and vision," he said. "Her leadership, combined with the experience and know-how of our incredibly capable staff, will advance COHHIO's efforts to end homelessness and expand access to safe, decent, affordable housing into the future."
Berry expressed gratitude for Faith's decades of service to COHHIO and the broader movement to end homelessness.
"Bill is a legend in Ohio and beyond. He has inspired so many of us to get involved and take action in the fight against homelessness. His advocacy has improved the lives of many thousands of Ohioans over the years," he said.
-30-