Summer 2020
We're six months into this pandemic – the strangest, most nerve racking period of my life as a homeless advocate – and I'm filled with two conflicting emotions: gratitude and frustration.
Let's begin with gratitude. I'm incredibly grateful that so many people stepped up to help us support Ohio's shelters during this ongoing fight to keep people as safe as possible from Covid-19. So many new donors and old friends contributed over $1 million to our Pandemic Emergency Fund. Your support was impressive and inspirational. Grants went to local shelters to help contain the virus by depopulating their facilities, moving high-risk residents into hotels and other facilities, shoring up staffing shortages, purchasing food and PPE, and other critical supplies.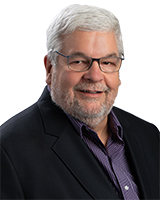 I'm thankful to our conference sponsors. Rather than requesting refunds when we canceled Housing Ohio 2020 in April, many of them matched their sponsorship contributions to support the Pandemic Emergency Fund. And I'm grateful that several new sponsors and foundations contributed for the first time. (CPEF donors) And I'm grateful to our long-time funders, like the Gund Foundation and Sisters of Charity of Cleveland, who continued to support our advocacy during these trying times.
I'm thankful to the Ohio Housing Finance Agency for stepping up with more than $11 million to help us help shelters get the funding, space, and PPE they need to continue operating.
And I'm truly grateful that we haven't seen any of the large-scale covid outbreaks in Ohio's shelters that have plagued other states' homeless populations.
I'm grateful that we received so many contributions to the Pandemic Emergency Fund we were able to launch our new Risk Mitigation Fund to encourage more landlords to participate in local rehousing programs to give homeless families and others the opportunity for a fresh start in a place of their own during the pandemic.
I'm thankful that the DeWine Administration recently allocated $15 million to create the Housing Now for Homeless Families program. This investment of federal Temporary Assistance to Needy Families funds will get families with children avoid or get out of the homeless system as quickly as possible. We've been advocating to use TANF for homeless prevention and rapid rehousing for nearly two years now, so it's gratifying to see the administration moving forward with this now. COHHIO is overseeing the program and we plan to start issuing grants in the coming weeks.
I'm thankful to COHHIO staff who so quickly adapted to the many new demands presented by covid and worked tirelessly to help steer Ohio's homeless system through these unprecedented challenges.
I'm especially grateful to emergency shelter employees who continued to show up to work despite overwhelming demands and frightening health risks. They are truly unsung heroes in the fight to keep this pernicious virus from spreading into the community. Shelter workers truly deserve gratitude from everyone in Ohio.
And now for the frustration. We have spent month after month warning that the pandemic will spark a full-blown housing crisis if we don't address the fact that so many tenants, who were already struggling to stay housed before covid, have since lost income and jobs.
Nearly 1.6 million Ohioans have filed for unemployment, eviction moratoriums have expired, supplemental unemployment benefits have lapsed, the virus continues to spread, the economy has withered, and job loss is concentrated among those who can least afford it – low-income workers and their families.
The need is both overwhelming and obvious. While the U.S. House has repeatedly passed legislation providing $100 billion for emergency rental relief, the Senate went on vacation without any deal to help unemployed tenants facing the prospects of eviction. And the president, rather than reinstating the federal eviction moratorium, issued an executive order falsely claiming it will address the eviction crisis. But it merely tells federal agencies to review the situation and provides no new resources for at-risk renters.
More than just frustrated, I'm disgusted by Senate leaders' indifference and the president's inflated promises that offer nothing but false hope to people on the verge of catastrophe. It only exacerbates the uncertainty and confusion facing low-income Americans who are already more vulnerable to the coronavirus.
Given federal leaders' failure to lead the country out of this public health and housing crisis, we've been asking Gov. DeWine to protect Ohio's unemployed renters. While the $15 million TANF allocation will help rehouse homeless families with children, it's won't reach the hundreds of thousands of Ohioans who lost their jobs and need assistance to avoid being evicted.
Two months ago we sent a letter signed by 182 organizations asking Gov. DeWine to allocate at least $100 million of the Ohio's federal coronavirus relief funding in emergency rental assistance. At least 31 other states have already invested some of their CARES Act funding to support their at-risk tenants. And while I'm frustrated that Ohio hasn't done that yet – and is still sitting on hundreds of millions of CARES Act dollars – we have had promising discussions with administration officials who understand the threat facing both Ohio's tenants and the state's housing market. So I'm also hopeful that the administration will provide some stopgap relief for renters until Congress can get their act together.
Fortunately, eviction filings this year are still well below average. This may be the calm before the storm. Some local relief programs have helped people pay rent, and many landlords understand their tenants' struggles and are being patient. But local rental assistance programs are burning through their funds, and landlords can't afford to wait indefinitely.
It all feels like watching the Titanic hit the iceberg – catastrophe could be prevented if only the captain would steer a different course. We'll keep urging state and federal leaders to send the lifeboats, as fall begins and the temperature drops. But we'll need your help – keep calling your members of Congress to tell them to support emergency rental assistance so people who lost their jobs don't have to worry about losing their homes during this pandemic.
And thanks again for supporting our efforts to make sure everyone has a place to call home during this public health crisis.
Bill Faith
Executive Director
Please Note: Click on the headlines below to read more. If you would like to stay up to date and receive occasional alerts about how you can help advance our advocacy efforts, please reply to this email and we'll add you to our advocacy list.

---
Sharing stories about the real life struggles people are facing is critical for convincing elected officials to take action to prevent this public health crisis from sparking a full-blown housing crisis.
We are constantly fielding requests from local and national reporters seeking to interview Ohioans caught up in the eviction crisis. If you have clients who are facing eviction and are willing to speak about their circumstances to the media, please contact COHHIO Communications/Development Director Marcus Roth.
Ohio has several members of Congress who are key to ensuring that housing and homelessness programs get additional funding in a future relief package. As relatively small pieces of the House's $3.2 trillion proposal, these issues could well get lost in congressional deal-making if we don't keep pressure on both parties to ensure that Ohioans have a safe place to live during the pandemic.
---
COHHIO thanks Gov. DeWine and his administration for investing $15 million in federal Temporary Assistance for Needy Families (TANF) funding to provide homeless prevention and rapid rehousing services for families with children.
Earlier this year the administration awarded COHHIO a $1 million grant to pilot the use of TANF for diverting families from emergency shelters. The latest award will allow us to expand the Housing Now for Homeless Families program to serve approximately 3,500 families who are at-risk or already experiencing homelessness.
---
COHHIO's civic engagement program Ohio Votes is ready to help you mobilize the vote in your community. Nonprofit agencies that help Ohioans access stable housing, food and healthcare are trusted messengers in disenfranchised communities and are uniquely positioned to encourage their clients to engage in the democratic process.
Join us in helping underserved voters navigate the voter registration voting and election processes, and enhance their opportunities for civic engagement by partnering with Ohio Votes.
---
The pandemic has created a renewed sense of urgency to move people out of congregate shelters where the virus spreads quickly. However, the pandemic has also created new challenges when it comes to finding landlords willing to participate in programs that move people from homelessness into permanent housing.
That's why we're launching the new Risk Mitigation Fund with a $500,0000 investment from COHHIO's Pandemic Emergency Fund.
---
Thank you to everyone who donated to the COHHIO Pandemic Emergency Fund! Together we raised over $1.4 million to support homeless shelters fighting to contain the spread of the coronavirus among Ohio's most vulnerable population!
Your donations helped prevent the virus from spreading in these congregate facilities and into the broader community. CPEF distributed grants ranging from $5,000 to more than $50,000 to 106 homeless agencies throughout the state.
---
Any effort to end homelessness and housing insecurity in Ohio must address the long-standing racial disparities in access to housing in our state.
That's why COHHIO is pleased to announce the creation of the Racial Equity Action Committee on Homelessness in Ohio (REACH Ohio) to advance solutions to racial disparities in our state's homeless system.
---
Settling in as the new Youth Housing Initiative Coordinator with COHHIO in this difficult time has been a rewarding challenge. A huge thank you to all of Ohio's youth homelessness assistance providers that have been so welcoming and kind to me in this transition.
The importance of supporting Ohio's vulnerable youth has become clearer than ever amidst the COVID-19 pandemic.
---
SOAR Ohio has been soaring with success for some of Ohio's most vulnerable community members. The National SOAR TA Center ranked Ohio among the top 10 states in fiscal years 2019-20 for achieving a 65 percent approval rate with claims decisions at 97 days or less for 300 Ohioans.
Along with this success nationally we would also like to share some good news about how SOAR Ohio will continue to make a positive impact into SFY 2020-21.
---
Sometimes COHHIO's Housing Information Line needs to remind housing authority officials to follow their own policies when it comes to raising the rent on vulnerable tenants.
Mr. Williams first called COHHIO's helpline in August 2019 asking about what he thought to be an improper increase in his rent by housing authority and his landlord.
---
COHHIO's training and technical assistance department is offering several training opportunities on financial management for nonprofits and landlord-tenant law.
And don't miss St. Mary Development Corporation's upcoming event The Business of Aging: Housing, Technology, and Healthcare and the Ohio CDC Association's annual conference on Oct. 13-16!
---
For more information about COHHIO, visit our website and check out our Facebook page and Twitter feed. To support COHHIO's ongoing efforts to end homelessness in Ohio, become a member today!