UPDATED July 16, 2021
Amidst reports of rapidly rising housing costs, a report issued Wednesday shows Ohio tenants need to earn at least $16.64 an hour to afford a modest 2-bedroom apartment, even though the average renter earns only $14.84 an hour.
The Out of Reach report, jointly released by the National Low Income Housing Coalition (NLIHC) and the Coalition on Homelessness and Housing in Ohio (COHHIO), found only four of the 10 most common jobs actually paid employees enough to afford a basic two-bedroom apartment.
Of the 10 occupations with the most employees in Ohio, only registered nurses earn considerably more than the $16.64 an hour housing wage. Ohioans working in many other widely available jobs – retail salespersons, cashiers, restaurant and hotel workers – were already struggling before getting laid off or downsized during the pandemic.
COHHIO Executive Director Bill Faith said the situation facing Ohio's tenants is undoubtedly worse than the report shows since the wage and rent data was collected prior to the pandemic and does not account for the economic upheaval caused by Covid-19.
"The spike in home prices is driving the cost of rents higher in many areas, making the affordable housing shortage even worse for people who were already struggling to pay rent," Faith said.
Nationally, 1 bedroom rent prices increased 7.6% just during the first quarter  of 2021, rising at a much faster pace than normal, according to market analysis by CoStar Group. Over the past year, Columbus rents are up 5.4%, Cincinnati 3.9%, and Cleveland 3.2%. The Midwest has not seen as rapid  increases as Sunbelt markets, but growth in Ohio is outpacing places like Los Angeles and New York City.
The U.S. Census Bureau's Household Pulse Survey in June found 249,000 Ohio households were behind on rent and 389,000 Ohioans were concerned they won't be able to pay next month's rent.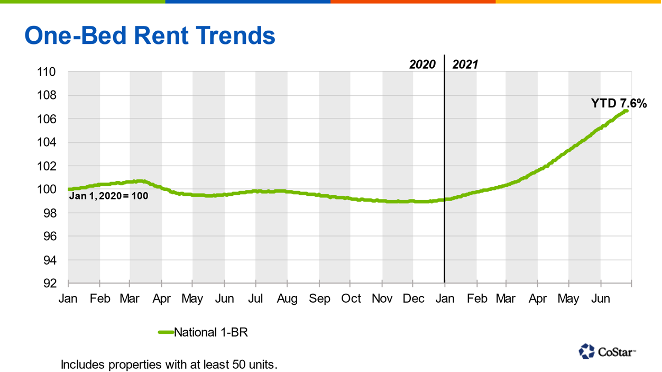 Federal relief measures, like Emergency Rental Assistance and the CDC's eviction moratorium, were designed to prevent a catastrophic eviction crisis, but Faith urged policymakers to enact measures to address America's long-standing affordable housing shortage.
"After a year of job losses, furloughs, and reduced hours, many struggling Ohio workers are on the brink of losing their homes when the eviction moratorium ends July 31," he said. "We need to start thinking long term so we're not caught flat-footed again when the next crisis hits."
NLIHC President and CEO Diane Yentel noted that low-income workers and communities of color were disproportionately harmed by the pandemic and recent economic dislocations.
"Housing is a basic human need and should be regarded an unconditional human right," she said. "The enduring problem of housing unaffordability ultimately calls for bold investments in housing programs that will ensure stability in the future. Without a significant federal intervention, housing will continue to be out of reach. This leaves millions susceptible to the overwhelming consequences of Congressional inaction."
COHHIO and NLIHC are urging Congress to include significantly expand access to the Housing Choice Voucher program, invest $70 billion to rehabilitate the public housing system, and allocate $45 billion for the National Housing Trust Fund to develop, preserve, and rehabilitate affordable units for extremely low-income Americans.