Demonta Eady didn't expect his best legal defense to come in the form of a sticky note, but it did.
Last year Demonta received a notice to renew the yearly lease on his apartment, with a renewal deadline that had already come and gone.
Demonta, who previously had a yearly lease, was charged an extra $200 as he was switched to a month-to-month lease for November. Eventually he was able to get a yearly lease that was similar to his previous one, except the late fee had increased from $75 to $100 – something he was not told about.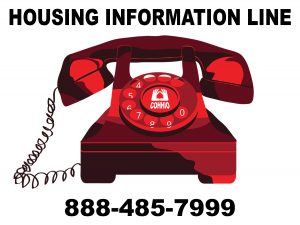 In January, when Demonta's payment was short by $25 – the increase in late fee – he came home to an eviction notice on his door. Demonta immediately went to the management office and offered to pay the balance right then and there, but was turned away. "We can't take your payment because if we did then we would have to allow it for everyone else," he was told.
And the price just kept going up. Management told Demonta that in order to keep his apartment, he would have to pay his rent, the late fee, and also the lawyer fees for the eviction proceedings, which now totaled over $1,000. The landlord wrote the final fee total down on a sticky note, which Demonta wisely kept. The agreement was clear: if Demonta paid the total owed, he could stay.
Demonta called COHHIO's Housing Information Line (1-888-485-7999) to seek free legal advice.
COHHIO's Affordable and Fair Housing Coordinator Joe Maskovyak helped Demonta develop his legal argument based on that sticky note. Joe informed him that the note proved the agreement between Demonta and management, and showed he had fulfilled his part of the deal.
Meanwhile, Demonta's problems got worse. Next time he tried to pay rent he was told they needed a cashier's check. However, his rent payment already been processed – the management company had cashed both his personal check and the cashier's check for the same month's rent!
Demonta showed up to court ready to mount his sticky note defense strategy. Management showed up ready to fight too, claiming that the apartment had already been leased out to someone else.
But the sticky note from management with the total amount he owed served as proof of the deal between Demonta and the management company. Demonta held up his end of the deal and management had not. The judge ruled in favor of Demonta, and the extra check was applied to his next month's rent. In the end, Demonta was vindicated, thanks to Joe's advice and his own willingness to fight an uphill battle.
This is just one of many instances where professional legal advice from COHHIO's Housing Information Line intervened to prevent Ohioans from wrongfully being turned out of their homes. If you or someone you know needs advice on how to deal with a specific housing issue, email us at: rentinfo@cohhio.org or call our Housing Information Line: 888-485-7999.
Please Note: COHHIO cannot provide legal representation, housing referrals, or financial aid. Please contact your local legal aid officeor call 2-1-1 for help with those resources.