Client Engagement Best Practices
Training
Overview
Below we've outlined Client Engagement Best Practices for use in our Continuum of Care. These are approaches that have been identified as data-driven, successful, and recommended. We encourage providers and staff to understand the concepts outlined in this section and to implement the use of these practices in our system.
Harm Reduction
Harm reduction is a set of practical strategies and ideas aimed at reducing negative consequences associated with drug use. It neither condones nor condemns any behavior. By incorporating strategies on a continuum from safer drug use to managed substance use and then abstinence, harm reduction practice helps clients affect positive changes in their lives.
The harm reduction philosophy embraces respect, trust, and a nonjudgmental stance. A basic assumption in this approach is that clients want to make positive changes and we can help clients move along the change continuum as far as possible.
Harm Reduction Principles
Individual's decision to use is accepted
Individual is treated with dignity
Individual is expected to take responsibility for his or her own behavior
Individuals have a voice
Reducing harm, not consumption
No pre-defined outcomes
Harm Reduction 101 by HRAC Denver
Progress Note Basics
When working with clients it is important to document your interactions in a clear, accurate, objective, and concise manner. Documentation is important for several reasons. For one, it helps the service provider recall the circumstances and history of a client that they are working with. It also allows new case managers the opportunity to smoothly transition services if the previous case manager leaves the provider.
Progress Note Important Tips
Notes should be as concise as possible
Notes should only include objective information rather than subjective opinions
Notes should be accurate and reflect the services provided
Notes should only include information that is necessary to helping the client
Progressive Engagement
Progressive Engagement supports families to quickly self-resolve their housing crisis by tailoring services, offering just what is needed. In a Progressive Engagement (PE) approach, a family seeking housing receives a small amount of assistance, tailored to their most critical need, with a keen focus on quickly resolving the housing crisis. The family keeps in regular contact with their provider, mutually monitoring whether the initial support was successful. If needed, the provider can adjust the amount and intensity of tailored service until the family has obtained permanent housing. With PE, the family and provider work together to first get the family into housing  and then identify additional goals if necessary. The PE approach can be broadly applied, complementing strategies such as Diversion and Rapid Re-Housing.
Progressive Engagement
Financial Assistance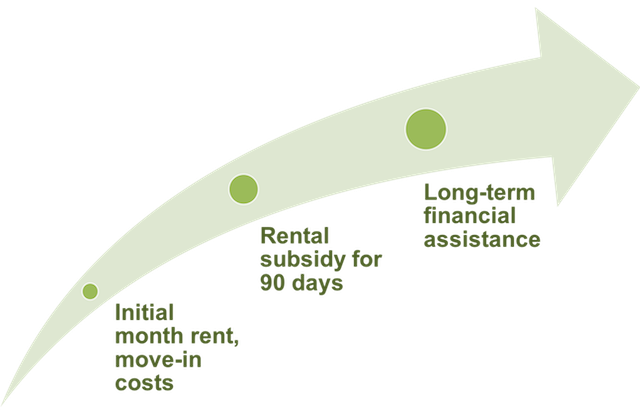 Progressive Engagement
Housing Search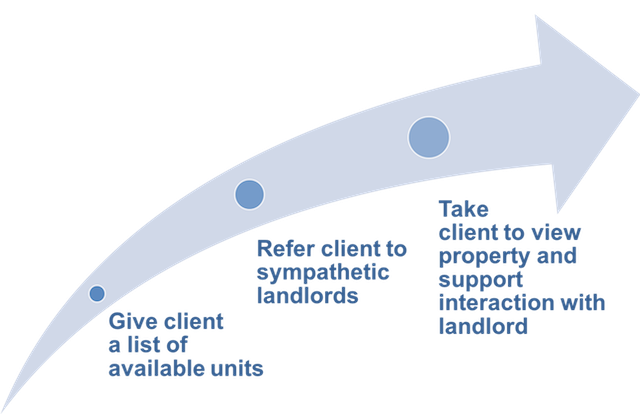 Motivational Interviewing
Motivational Interviewing (MI) includes a set of practices designed to initiate and build collaborative conversations between people. MI practices can be used in almost any setting. With positive change as the focus, we draw upon what a person already knows, has experienced, and where they want to be. Motivational Interviewing utilizes active listening, participant engagement, recognition of barriers, and trust that honors a person's autonomy. MI conversations are judgment-free, non-confrontational, and non-adversarial. MI increases motivation to achieve a better future while acknowledging both successes and barriers along the way. Below are the basic interaction techniques of MI, referred to as OARS.
Open Questions
Open questions invite others to tell their story.
"What would your ideal housing situation look like?"
Affirmations
Affirmations are statements that acknowledge positive behaviors. To be effective, affirmations should be honest and relevant.
"You are a resilient person to have overcome so much adversity."
Reflective Listening
Have interest in what the person has to say and respect for the person's life experience and wisdom.
"It sounds like you…"
Summaries
Summarizing demonstrates that a client has been heard. Summaries are particularly helpful at transition points in the conversation.
"Here is what I've heard. Tell me if I've missed anything."
Client De-Escalation
At some point, we are all confronted with someone who is feeling hurt, disappointed, angry, or another negative emotion that has the potential to create conflict. One way to deal with situations like this is to verbally de-escalate the person and help them to feel heard. The Crisis Prevention Institute has made their 10 De-Escalation Tips available as a resource. To advance the De-Escalation Tips slides, click the white down arrow in the top left corner of the box below.
Trauma-Informed Care
Providers in the Ohio BoSCoC serve clients from a wide range of backgrounds. Trauma-informed care focuses on an understanding of the vulnerabilities and triggers of trauma survivors so that we can be more supportive and avoid re-traumatization. It can be viewed as an approach or as a set of universal precautions, designed to be both preventive and rehabilitative. With this approach, the relationships among environment, triggers, and perceived dangers is noted and addressed. Providers and their staff should approach all clients as if they have a trauma history, regardless of the services for which the clients are being seen.
Substance Abuse and Mental Health Services Administration (SAMHSA) shares a helpful definition for understanding trauma-informed care:
An approach, program, organization, or system that is trauma-informed:
Realizes the widespread impact of trauma and understands potential paths for recovery;
Recognizes the signs and symptoms of trauma in clients, families, staff, and others involved with the system;
Responds by fully integrating knowledge about trauma into policies, procedures, and practices; and
Seeks to actively resist re-traumatization.
Self-Care
As social service professionals, we are often immersed in crisis and trauma. The stress of the work we do often comes home with us. We can find ourselves working or thinking about the work ahead during non-work hours. It is imperative that we find ways to take care of ourselves so that we can continue to best serve our clients and avoid burnout. Self-care activities can help us to restore our mental, emotional, and physical health. Incorporating self-care activities into your routine can help to manage stress. Consider gardening, journaling, going for a walk, stretching, cooking, and other restorative activities.