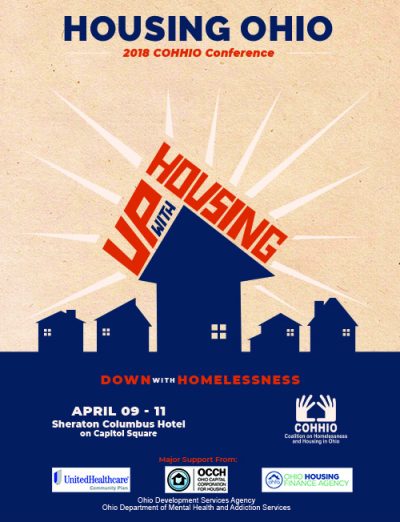 Thanks for helping to make Housing Ohio 2018 a success!
With 588 attendees, 38 sessions, 106 presenters, and 59 sponsors and supporters, Housing Ohio 2018 was COHHIO's biggest conference ever!
Megan Gibbard Kline, director of A Way Home America, kicked off this year's conference on Monday, April 9 with a presentation on how communities in Ohio and across the nation are working to end youth homelessness. We maintained the focus on youth homelessness during the Tuesday morning plenary with powerful testimony from members of the Lighthouse Youth Advisory Council – young people who recounted their personal struggles with housing insecurity and the challenges of navigating a system designed for adults.
During Tuesday's lunch plenary session, Darlene Sweeney-Newbern commemorated the 50th anniversary of Congress's passage of the federal Fair Housing Act. The Ohio Civil Rights Commission's new Director of Operations delivered a spirited critique of failures to enforce the law over the past five decades, but vowed "we will desegregate America."
The Commons in Harmony wrapped up Tuesday's plenary with a rousing set that inspired the audience. The Columbus-based choir gives voice – literally and figuratively – to people coping with homelessness and disabilities and showed how the power of community and song empowered them to move from the shadows to the spotlight.
In between the plenaries, conferees attended 32 breakout sessions covering a broad spectrum of topics involving homelessness and poverty, race and discrimination, social work methodology, advocacy and public policy, housing finance and program management. A sampling of the subjects includes: art therapy for homeless veterans; risk management for nonprofit leaders; the intersection of housing and healthcare; the statewide plan to end homelessness; social entrepreneurship; landlord-tenant law; the opiate crisis; and advocating for better public policy.
During Wednesday's Housing Institute, participants explored challenging subjects during three day-long sessions focusing on harm-reduction, creating a low-barrier system, and the trauma-informed approach.
COHHIO is indebted to our many presenters who were willing to share their expertise to advance the cause of ending homelessness and expanding access to safe, decent, fair affordable housing. We are also thankful that so many sponsors were willing to support this mission.
Save the Date: the 2019 Housing Ohio conference will take place April 8-10
Major support provided by:

Ohio Development Services Agency
Ohio Department of Mental Health and Addiction Services
Housing Ohio 2018 is made possible by our generous sponsors:
Other confirmed Housing Ohio 2018 sponsors include:
AARP
Affordable Housing Trust for Columbus and Franklin County
Anthem Blue Cross and Blue Shield
AT&T
Barbara Poppe & Associates
Buckeye Community Hope Foundation
Buckeye Health Plan
CareSource
CareWorksComp
CHN Housing Partners (formerly Cleveland Housing Network)
Columbus Metropolitan Housing Authority
Community Housing Network
Corporation for Supportive Housing
CREA, LLC
Disability Rights Ohio
Duke Energy
Enterprise Community Partners
Fairfield Homes
Federal Home Loan Bank of Cincinnati
Finance Fund and FCAP
First Financial Bank
Geotechnical Consultants, Inc.
Homeport
Huntington Bank
JPMorgan Chase
KeyBank
The Millennia Housing Companies
Model Group
Molina Healthcare of Ohio
Mount Carmel Health System
Mutual of America
National Church Residences
National Equity Fund, Inc.
Nationwide Children's Hospital
Neighborhood Development Services
New Era Benefits Consulting
Novogradac & Co. LLP
Ohio State University College of Social Work
Park National Bank
Porter Wright Morris & Arthur LLP
Provident Companies
RED Capital Group
Rose Community Capital
Star Title Agency
Stemen, Mertens, Stickler, CPAs
Third Federal Savings & Loan
Tidwell Group
Tober Building Company
The Woda Group
U.S. Bank
Vogt Strategic Insights
Wallick Communities
---
Other Supporters Include:
Akron Metropolitan Housing Authority
NeighborWorks Collaborative of Ohio
St. Mary Development Corp.
For information on sponsorship, please contact Marcus Roth, Communications/Development Director, 614-280-1984 X 111; marcusroth@cohhio.org