Diversion
Training
What is Diversion?
Diversion screening happens when a client or household contacts an access point. When households experiencing a housing crisis enter or call an access point, access point providers conduct a Diversion screening to determine if the household can return to housing or identify alternative housing outside of the crisis response system. Diversion utilizes resources and mediation techniques to assist the household in identifying alternative housing options including returning to their own housing, staying with family or friends, or relocation to another area. Diversion should only take place when clients are literally homeless or at risk of becoming homeless in the next seven days.
Often, resolving a conflict between friends or family members can lead to a resolved housing crisis. For this reason, mediation can be a powerful Diversion tool. For more information about mediation, see Finding a Solution: Guide to Mediation on COHHIO's Training and Technical Assistance page.
Diversion Workflow
The Diversion Workflow below to identify if a client or household should be diverted when contacting an access point. Click the image below to view the full-size image.
Households Facing Housing Instability
Use the Households Facing Housing Instability cue card below if an individual or household is not currently homeless and will not be facing a housing crisis in the next seven days. Click the image below to view the full-size image.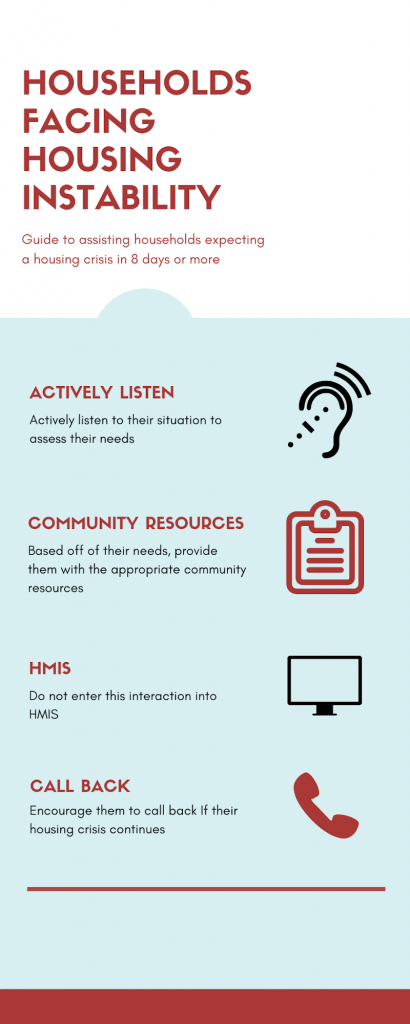 Key Elements of Diversion
The following practices are recommended when conducting Diversion.
Strengths-Based
Help clients overcome this episode of homelessness by identifying strengths, successes, and resources they've used in the past.
Client-Centered
Avoid assuming what people need. Help clients articulate their own needs.
Empathetic Listening
Listen and validate the client's experience. Be non-judgmental.
Support and Trust
Support and trust that people want to succeed. Help clients identify their own strengths and successes that can help them overcome this crisis.
Transparency
Conduct yourself with the goal of transparency, build trust, and maintain trust. Make tasks and decision-making processes clear and maintain appropriate boundaries.
Empowerment
Assist clients in identifying safe and appropriate housing options. Help the client in regaining control over their situation and lives.